Coin Information: Tantalus S/N 24276
Click coin image to view at maximum resolution.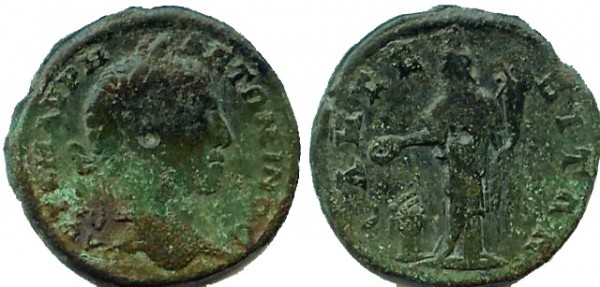 Image Rights: Copyrighted by User = Free to Reproduce with Copyright Holder Acknowledgement
This item has been viewed 3246 times.
Coin type:
Roman Provincial
Entered by:
kerux (Seller rating: 5.0 out of 5, based on 34 buyer responses)
Added on:
Mar 23, 2007
Ruler:
Elagabalus (Emperor of Rome)
Region, City:
Moesia Inferior, Odessos
Coin:
Bronze AE24
AYTKMAVPH-ANTΩNEINOC - Bust right
ΟΔHCC-EITΩN - Great God wearing kalathos standing left with patera & cornucopia; lit altar at his feet
Mint:
(218-222 AD)
Wt./Size/Axis:
9.50g / 24mm / -
References:
Acquisition/Sale:
For Sale:
This coin is for sale. (

$29.00

)
About this seller

Notes:
Mar 23, 07 - Better specimen brought $357.00 at auction:
http://www.coinarchives.com/a/lotviewer.php?LotID=40202&AucID=43&Lot=726

ODESSOS was an ancient city-fortress of Thrace established in the 6th century BC. Philip II of Macedon tried unsuccessfully to take the town in 341 BC.




Comments:
No comments have been posted for this coin.Comments are not being accepted for this coin.