Coin Information: Tantalus S/N 35491
Click coin image to view at maximum resolution.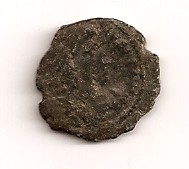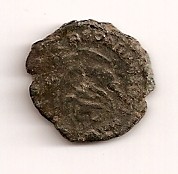 Image Rights: Copyrighted by User = Free to Reproduce with Copyright Holder Acknowledgement
This item has been viewed 727 times.
Coin type:
Roman Imperial
Entered by:
mrichter (Seller rating: 5.0 out of 5, based on 13 buyer responses)
Added on:
Aug 19, 2009
Ruler:
Constantius II (Augustus)
Coin:
Poor Copper Ae3
D N CONSTANTIVS P F AVG - Diademed, draped and Cuirassed bust right
FEL TEMP REPARATIO - Soldier spearing fallen horseman
Exergue:
Mint:
Uncertain (c. 337 - 3)
Wt./Size/Axis:
2.22g / 16mm / 180
References:
Acquisition/Sale:
H*O*A*R*D eBay 2005
For Sale:
This coin is for sale. (

$6.00

)
About this seller

Notes:
Aug 19, 09 - The mint mark on the reverse is obscured. It is unclear if this is due to the overall condition of the coin or its current state of cleaning. Additional cleaning may improve the appearance of both sides of this coin.

The seller of this coin, H*O*A*R*D also sells on eBay as Land-Of-Kush. He is notorious for false advertising and misleading claims in his auctions. This coin was received as part of a group of 20 coins that were supposed to have been unclean. They were actually cleaned late Roman bronze coins that had been "re-dirted" (re-covered with mud after being cleaned). I feel lucky that I actually received genuine coins.




Comments:
[+ Post Your Own ]
No comments have been posted for this coin.Comments are not being accepted for this coin.