Coin Information: Tantalus S/N 35813
Click coin image to view at maximum resolution.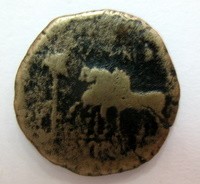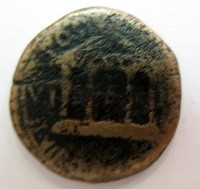 Image Rights: Copyrighted by User = Free to Reproduce with Copyright Holder Acknowledgement
This item has been viewed 873 times.
Coin type:
Roman Provincial
Entered by:
mrichter (Seller rating: 5.0 out of 5, based on 13 buyer responses)
Added on:
Oct 1, 2009
Ruler:
Tiberius or Augustus
Region, City:
Spain, Carthago Nova (Moder
Coin:
VG bronze Ae19
P TVRVLL V I N K II VIR QVINQVEN - Quadriga moving left
M POSTV ALBINVS II VIR QVINQ ITER V I N K - Pentastyle temple with inscription in pediment (illegible)
Mint:
(Late 1st C)
Wt./Size/Axis:
3.63g / 19mm / 90
References:

RPC 175 or 177
Burgos 602 (2008 edition, was #464)
Heiss 21 (See below)

Acquisition/Sale:
zipzape2000 eBay #160361317263 9/19/09
For Sale:
This coin is for sale. (

$100.00

)
About this seller

Notes:
Oct 1, 09 - This coin was issued under P. Turullio and M. Postumius Albinus, duovirs.

Jeremy Bostwick of CNG notes that Heiss "lists three examples [of this coin], no. 21 with the quadriga facing left, and nos. 22-23 with the quadriga facing right. However, in the plates, all three coins show a quadriga facing right, so I believe the listing in the catalog to be incorrect and all three examples are facing right, making yours very unusual." Heiss refers to the reference "Monnaies antiques de l'Espagne. Paris, 1870"

A similar coin was sold by Heritage in January 2007. This coin was assigned to the time of Augustus and has the Quadriga facing right and the inscription AGVSTO in the pediment of the temple. The obverse legend was the same as this coin. The Heritage coin was attributed as RPC 174; SNG Copenhagen 499. Ex CNG 47 (16 September 1998), 818. Unfortunately, CNG's online research database doesn't appear to go as far back as 1998 to see if there is any additional information on the coin.

In his 2003 paper entitled "Los príncipes de la familia Julio-Claudia y los inicios del culto imperial en Carthago Nova", Sebastián F. Ramallo Asensio of the Universidad de Murcia included a photograph of another example of this coin. It noted the coin as an early issue of Tiberius but (if my reading of the Spanish is correct) gave no further attribution information. The RPC indicates that this coin should be considered to be from the time of Augustus. Burgos dates the coin to the reign of Tiberius.

The RPC lists two coins that are both possibilities. RPC 175 and 177 are almost the same. The only difference is the legend on the obverse. There is not enough of the bverse legend left on this coin to make a full attribution.




Comments:
[+ Post Your Own ]
No comments have been posted for this coin.Comments are not being accepted for this coin.