Coin Information: Tantalus S/N 37462
Click coin image to view at maximum resolution.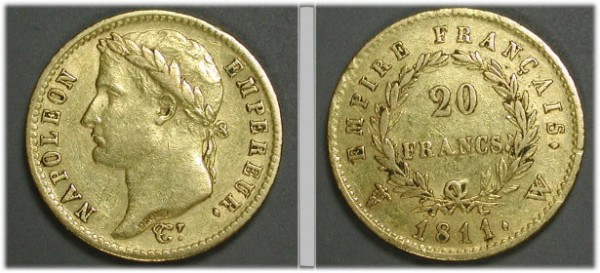 Image Rights: All Rights Reserved
This item has been viewed 551 times.
Coin type:
World
Entered by:
ejspoon
Added on:
May 11, 2010
Country:
France
Authority:
Napoleon 1
Coin:
1811 W 20 Francs
NAPOLEON EMPEREUR - Laureate head left
Mint:
Lille (328,000)
Wt./Size/Axis:
6.43g / 26mm / -
Acquisition/Sale:
Notes:
May 11, 10 - Scarcer date coin

.1867 ounce gold.




Comments:
[+ Post Your Own ]
No comments have been posted for this coin.Comments are not being accepted for this coin.