Coin Information: Tantalus S/N 37851
Click coin image to view at maximum resolution.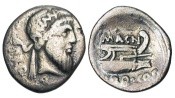 Image Rights: Copyrighted by User = Free to Reproduce with Copyright Holder Acknowledgement
This item has been viewed 381 times.
Coin type:
Roman Imperatorial
Entered by:
mrichter (Seller rating: 5.0 out of 5, based on 13 buyer responses)
Added on:
Aug 28, 2010
Ruler:
Pompey the Great
Coin:
Toned aVF Silver Denarius
CN PISO PRO Q - Diademed head of Numa Pompilius right with NVMA on diadem
MAGN PRO COS - Prow right
Mint:
Greece (Pharsalas?) (49 BCE)
Wt./Size/Axis:
3.51g / 19mm / 180
References:

RSC 8
BMC 62
Sydenham 1032
Crawford 446/1
Bableon 8

Acquisition/Sale:
Pegasi Numismatics Buy or Bid 139 #287 8/17/10
Notes:
Aug 29, 10 - The reverse refers to Pompey's victory over the pirates in 67 BCE.




Comments:
[+ Post Your Own ]
No comments have been posted for this coin.Comments are not being accepted for this coin.