Coin Information: Tantalus S/N 38130
Click coin image to view at maximum resolution.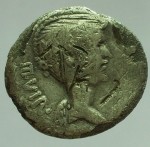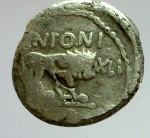 Image Rights: Copyrighted by User = Free to Reproduce with Copyright Holder Acknowledgement
This item has been viewed 476 times.
Coin type:
Roman Imperatorial
Entered by:
mrichter (Seller rating: 5.0 out of 5, based on 13 buyer responses)
Added on:
Oct 25, 2010
Ruler:
Fulvia Flacca Bambul (First wife of Marc Antony)
Gens:
Fulvii
Coin:
VG Silver Quinarius
RPC III VIR - Bust of Victory right, with the likeness of Fulvia
ANTONI IMP A XLI - Lion advancing right
Mint:
Lyon (43 BCE)
Wt./Size/Axis:
1.44g / 14.25mm / 330
Rarity:
Rare
References:

RSC 3
Crawford 489\6
Sydenham 1163
Giard, Lyon 71, 3
BMC Gaul 48

Acquisition/Sale:
Numismattica Tintinn Asta Elect 6 #1101 9/30/10
Notes:
Oct 25, 10 - According to CNG: The XL refers to Antony's age. The lion may represent his birth sign - Leo. The portrait is undoubtedly that of Fulvia. It is exactly like those on the Æ of Eumenea issued after it was renamed "Fulvia" in her honor at around the time of Antony's journey to the East in 41 BCE.

Fulvia was the first non-mythological woman to appear on a Roman coin. She was politically active with all three of her husbands, all of whom supported Julius Caesar. Mark Antony was the third. In 42 BC, Antony and Octavian left Rome to pursue Julius Caesar's assassins, Fulvia was left behind as the most powerful woman in Rome. When Octavian returned to Rome In 41 BC, tensions between Octavian and Fulvia escalated to war in Italy. According to Appian, Fulvia was a central cause of the war, due to her jealousy of Antony and Cleopatra's affair in Egypt. With Lucius Antonius, she raised eight legions in Italy to fight for Antony's rights against Octavian. The army occupied Rome for a short time, and Lucius organized his troops at Praeneste, but eventually retreated to Perusia (modern Perugia), where Octavian besieged him. Fulvia was at Praeneste and there is evidence she helped Lucius. After Lucius' surrender in 40 BCE, Fulvia fled to Greece with her children. Appian writes that she met Antony in Athens, and he was upset with her involvement in the war. Antony then sailed back to Rome to deal with Octavian, and Fulvia died of an unknown illness in exile in Sicyon, near Corinth, Achaea. After her death, Antony and Octavian used it as an opportunity to blame their quarreling on her.




Comments:
[+ Post Your Own ]
No comments have been posted for this coin.Comments are not being accepted for this coin.