Coin Information: Tantalus S/N 38159
Click coin image to view at maximum resolution.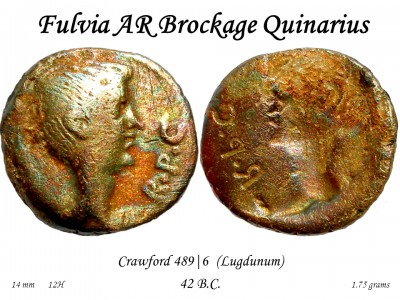 Image Rights: Copyrighted by User = Free to Reproduce with Copyright Holder Acknowledgement
This item has been viewed 371 times.
Coin type:
Roman Imperatorial
Entered by:
Gunner (Seller rating: 5.0 out of 5, based on 1 buyer responses)
Added on:
Oct 26, 2010
Ruler:
Fulvia
Coin:
aVF Silver Quinarius
III VIR. R.P.C. - Bust of Victory r. with likeness of Fulvia,
- Obverse Brockage
Mint:
Lugdunum (42 B.C.)
Wt./Size/Axis:
1.75g / 14mm / 12H
Rarity:
Extremely
References:
Provenances:
Acquisition/Sale:
Ebay
Notes:
Oct 19, 11 - Retoned to Iridescent on 4/21/2011 using the Liver of Sulfur method.

Beautiful Coin!!!

Sold Via Ebay Auction for $102.00 on 10/16/2011 to a buyer in the UK.




Comments:
[+ Post Your Own ]
No comments have been posted for this coin.