Coin Information: Tantalus S/N 38218
Click coin image to view at maximum resolution.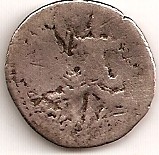 Image Rights: Copyrighted by User = Free to Reproduce with Copyright Holder Acknowledgement
This item has been viewed 394 times.
Coin type:
Roman Imperatorial
Entered by:
mrichter (Seller rating: 5.0 out of 5, based on 13 buyer responses)
Added on:
Oct 27, 2010
Ruler:
Sextus Pompey
Gens:
Pompeia
Coin:
Poor Silver Denarius
MAG. PIVS. IMP. ITER - Diademed head of Neptune right; trident behind
PRÆF. CLAS ET. O-R-Æ MARIT. EX S C - naval trophy set on anchor, top of trident visible above, heads of Scylla and Charybdis at base
Mint:
Uncertain mint in Sicily (42 BCE)
Wt./Size/Axis:
3.10g / 20mm / 120
References:

RSC 1a
Crawford 511/2b
Sydenham 1347

Acquisition/Sale:
Ye Olde Curiositie S 10/27/10
Notes:
Oct 27, 10 - Sextus Pompeius Magnus (67 - 35 BCE) was the younger son of Pompey the Great. After Caesar's death he gathered a fleet, seized Sicily and took control of the Mediterranean. In 36 BCE he was defeated by Octavian's forces under command of Agrippa and fled to Asia Minor. He was taken prisoner in Miletus and executed without a trial.




Comments:
[+ Post Your Own ]
No comments have been posted for this coin.Comments are not being accepted for this coin.