Coin Information: Tantalus S/N 38678
Click coin image to view at maximum resolution.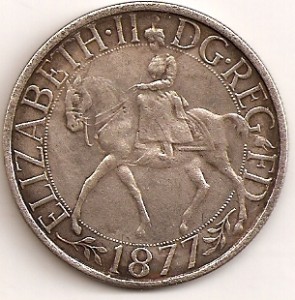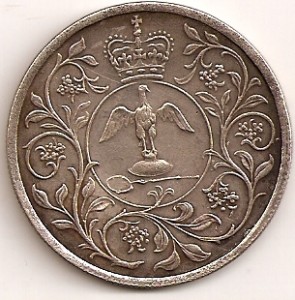 Image Rights: Copyrighted by User = Free to Reproduce with Copyright Holder Acknowledgement
This item has been viewed 4800 times.
Coin type:
World
Entered by:
mrichter (Seller rating: 5.0 out of 5, based on 13 buyer responses)
Added on:
Jan 11, 2011
Authenticity:
Forgery
Country:
Great Brit
Authority:
Elizabeth II
Coin:
Fine 1977 25 New Pence
ELIZABETH II D G REG F D 1877 - Elizabeth seated on horse riding left
- Floral wreath surrounding eagle on spoon beneath crown
Shape:
Round.
Wt./Size/Axis:
16.69g / 40mm / 0
References:
Acquisition/Sale:
Red Bank Antique Bar 1/2/10
Notes:
Jan 12, 11 - This is modern Chinese made counterfeit of a 1977 British 25 pence coin that commemorates the silver jubilee (25 years) of Queen Elizabeth II (1952-). It can be easily spotted by the incorrect date of 1877 on the obverse




Comments:
[+ Post Your Own ]


I'm not selling this one but I think it is worth about $2.00 US. Maybe more if the metal it is made of is good. I'm sure you can find one on eBay for about that.

Posted by

mrichter

at 9:17 PM : Nov 3, 2012

how much does it cost?

Posted by guest (70.38.12.116) at 1:32 PM : Nov 3, 2012

Comments are not being accepted for this coin.