Coin Information: Tantalus S/N 38869
Click coin image to view at maximum resolution.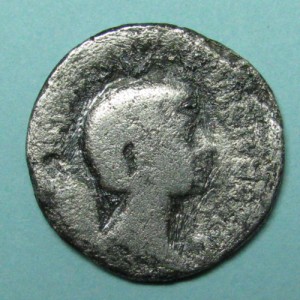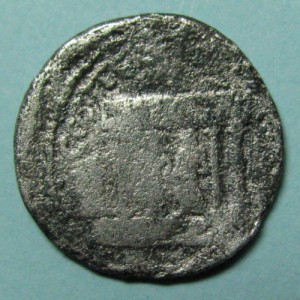 Image Rights: Copyrighted by User = Free to Reproduce with Copyright Holder Acknowledgement
This item has been viewed 491 times.
Coin type:
Roman Imperatorial
Entered by:
mrichter (Seller rating: 5.0 out of 5, based on 13 buyer responses)
Added on:
Feb 12, 2011
Ruler:
Octavian
Gens:
Julia
Coin:
Poor Silver denarius
IMP CAESAR DIVI F III VIR ITER R P C - Bare head of Octavian, right
COS ITER ET TER DESIG - Julius Caesar, wearing veil and holding lituus, in tetrastyle temple, on architrave, DIVO IVL (no longer visible on the coin), on left a lighted altar
Mint:
Rome (c. 36 BCE)
Wt./Size/Axis:
3.15g / 21mm / 180
References:

Crawford 540/2
BMC (Africa) 33.
RSC 90

Acquisition/Sale:
samhan_53024 eBay #110640054748 1/31/11
Notes:
Feb 12, 11 - This lower grade coin is an example of a very rare early denarius minted by Octavian (27 B.C. to 14 A.D.) around 36 B.C. to honor his divine relative, Julius Caesar, who had been assassinated only eight years before in 44 B.C. The reverse design depicts the now deified Julius Caesar wearing a veil and holding a lituus standing in a tetrastyle temple. On the architrave of the temple is inscribed DIVO IVL or "To the divine Julius".




Comments:
[+ Post Your Own ]
No comments have been posted for this coin.Comments are not being accepted for this coin.