Coin Information: Tantalus S/N 39636
Click coin image to view at maximum resolution.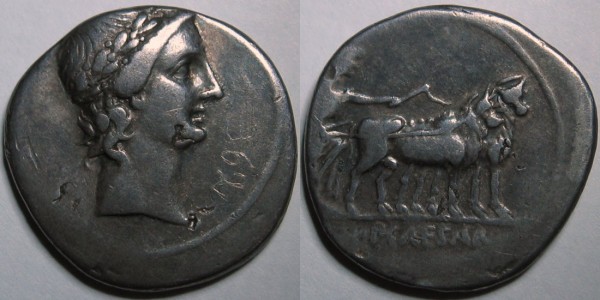 Image Rights: Copyrighted by User = Free to Reproduce with Copyright Holder Acknowledgement
This item has been viewed 386 times.
Coin type:
Roman Imperatorial
Entered by:
ethnucoins
Added on:
Jul 7, 2011
Ruler:
Augustus
Coin:
Silver Denarius
- Laureate head of Apollo right
- Augustus as pontifex, ploughing right
Exergue:
IMP CAESAR

Mint:
Rome (c 32 - 27 )
Wt./Size/Axis:
3.59g / - / 0h
References:
Acquisition/Sale:
Nomisma Auction Aste-43 #79 6-May-2011



Comments:
[+ Post Your Own ]
No comments have been posted for this coin.Comments are not being accepted for this coin.