Coin Information: Tantalus S/N 41049
Click coin image to view at maximum resolution.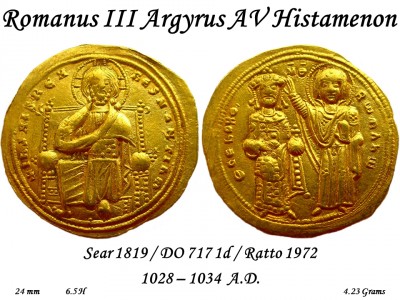 Image Rights: Copyrighted by User = Free to Reproduce with Copyright Holder Acknowledgement
This item has been viewed 334 times.
Coin type:
Byzantine
Entered by:
Gunner (Seller rating: 5.0 out of 5, based on 1 buyer responses)
Added on:
Dec 18, 2011
Ruler:
Romanus III Argyrus (Augustus)
Coin:
Superb EF Gold Histamenon
+ IhS XIS RX RATIh - Christ, Nimbate, Seated Facing on Throne, Raising Right Hand in Benediction and Holding Book With Left Hand
QC*bOHQ R*mAn* - Romanus III Standing Facing on Left, Wearing Crown & Loros, Holding Cross on Globe in his Left Hand & Holding his Right Hand at his Breast; to Right, The Virgin, Without Nimbus, Standing Facing, Crowning Romanus with her Right Hand; Between Their Heads MQ
Mint:
Constantinople (1028-1034)
Wt./Size/Axis:
4.23g / 24mm / 6.5
Rarity:
Rare
References:

Sear 1819
DO 717 1d
Ratto 1972

Acquisition/Sale:
goldmercedes450 Ebay
Notes:
Dec 31, 11 - Sold to a buyer in Arizona via Ebay Best offer on 12/31/2011 for $575.00 US.




Comments:
[+ Post Your Own ]
No comments have been posted for this coin.