Coin Information: Tantalus S/N 41264
Click coin image to view at maximum resolution.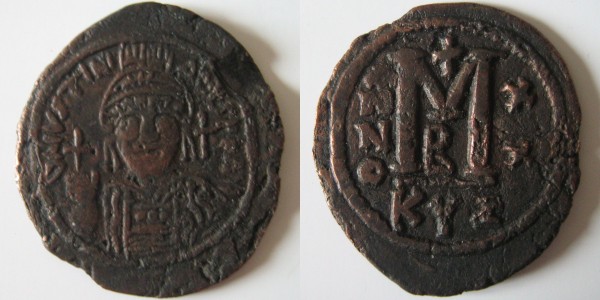 Image Rights: Copyrighted by User = Free to Reproduce with Copyright Holder Acknowledgement
This item has been viewed 252 times.
Coin type:
Byzantine
Entered by:
ethnucoins
Added on:
Feb 5, 2012
Ruler:
Justinian I (Augustus)
Coin:
Bronze Follis
DN IVSTINIANVS PP AVG - Helmeted, cuirassed bust facing, holding cross on globe and shield with horseman motif, cross to right
ANNO XX - Large M, B below, legend to left and right
Exergue:
Mint:
Cyzicus (547)
Wt./Size/Axis:
16.90g / 38mm / -
References:
Acquisition/Sale:
19-Jan-2012
Notes:
Feb 6, 12 - I won this in an AP raffle. Thanks a lot, Elias.




Comments:
[+ Post Your Own ]
No comments have been posted for this coin.Comments are not being accepted for this coin.